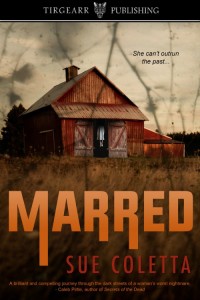 I love all things crime, and have always been fascinated by how the criminal mind works. In my books, I offer an honest look behind the crime scene tape. Sometimes it can be frightening; sometimes it can be fascinating. Are you ready to take the ride?
"Riveting and haunting! Sue Coletta's page-turning crime fiction is deliciously nuanced with delectable horror and dark humor. Unique and compelling characters make a sumptuous and satisfying meal. Save room for a decadent dessert of plot twists." ~

 

Jordan Dane, bestselling, critically-acclaimed author of the Ryker Townsend  FBI Profiler series
MARRED, a haunting mystery/serial killer thriller rep'd by Tirgearr Publishing. Available in paperback and digital formats.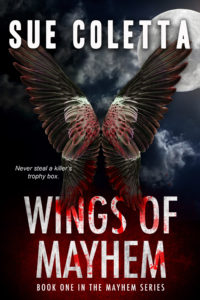 Wings of Mayhem, a psychological thriller rep'd by Crossroad Press/Gordian Knot Books, is available at all online retailers. Wholesalers can find Wings of Mayhem through Ingram.
Save 15% off the paperback by ordering direct from Crossroad.
Larry Brooks rates Wings of Mayhem 5-stars!
To read the full review go to the home page or check it out on Amazon.
In the past I wrote children's books — more than I can count. Not for publication, but for friends' children to enjoy. Now that I have granddaughters of my own I may have to resurrect one or two. Yup, you read that right. I have grandchildren, even at my tender age of…
I write full-time and start each morning relaxing with a good book. When asked, I'm always happy to help other writers, if time permits. After all, I truly believe when one of us succeeds we all do. The writing community is a rare, wonderful, supportive group, and I consider myself blessed to walk among them.
A little background…
During my lifetime I've walked with criminals, crooks, notorious biker gangs, lawyers, cops, upstanding citizens, and came way too close to death on more than one occasion, all of which helps me create believable well-rounded characters for my books.
Beliefs…
Animals should be loved, cared for, admired, and cherished. They are family, and should be treated as such. Mistreatment of any kind should be prosecuted to the fullest extent of the law. Nuff said.
Bio…
Mystery Writers of America, Sisters in Crime, and International Thriller Writers, Sue Coletta is always searching for new ways to commit murder…on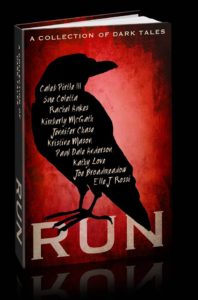 the page. She's the Amazon Top 1o bestselling author of Wings of Mayhem, MARRED, The Rendering, Crime Writer's Research, and 60 Ways to Murder Your Characters. A multi-published crime writer in numerous anthologies, including Murder, USA, A Crime Fiction Tour of the Nation (Grab your FREE copy HERE), One Hundred Voices (use the discount code: 100V91), and an exciting new short story collection, RUN, that releases Oct. 31, 2016. Sue's also published forensics articles in InSinC Quarterly and flash fiction in OOTG Flash Fiction Offensive, to name a few.
In addition to running a popular crime website/blog, Sue's the communications manager for the Serial Killer Project and Forensic Science, both groups founded by homicide detective (Ret.) and cold case expert, Joe Giacolone. And she's the founder of #ACrimeChat on Twitter (more about the chat below). To learn more about Sue and her books, or to read the first chapter of her crime novels, go to Marred and/or Wings of Mayhem under "My Books" in the toolbar.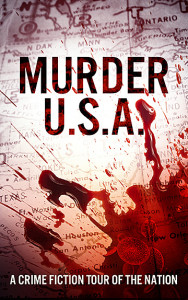 In addition to this blog, I'm the co-administrator/contributor of an authors' blog, The Book Stops Here, with twenty-four trad-pubbed authors. And I'm the communications manager for the Serial Killer Project and Forensic Science.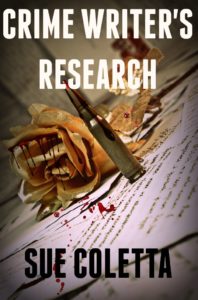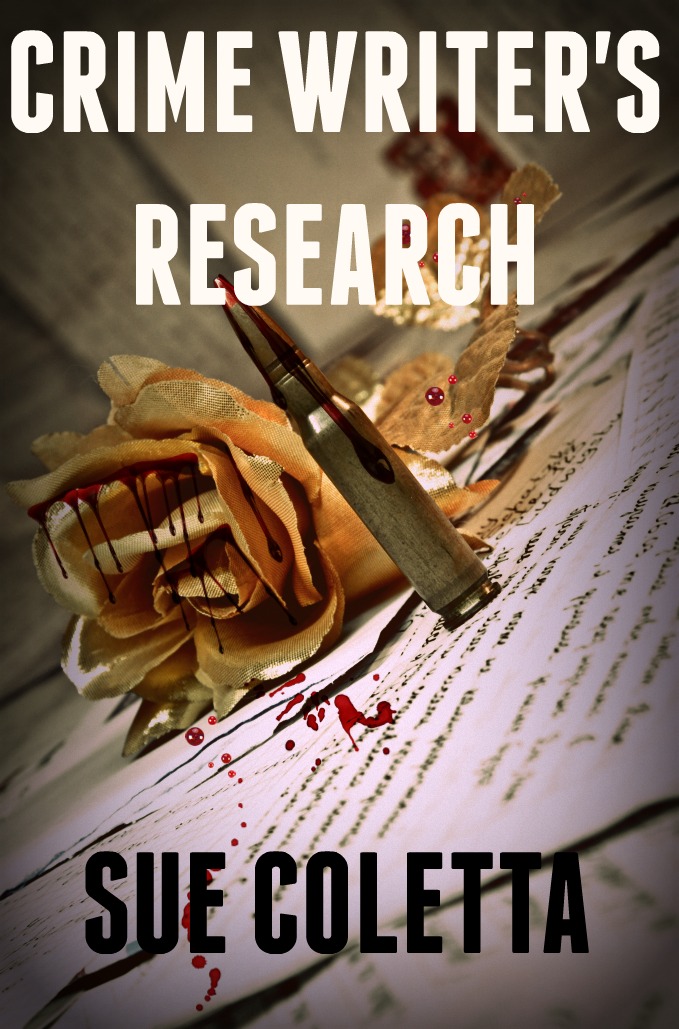 I've been happily married to a wonderful man for nearly twenty years. We live in rural New Hampshire with our dog. Or rather, our dog allows us to live with him. For a peek at our life read A Glorious Summer Day – Not. Update: Sadly, our fur-baby passed away, but I leave this up as a reminder of the joy he brought to lives.
Join us on Blog Talk Radio! "Partners In Crime," airs every 3rd Tuesday of the month from 1 p.m. – 3 p.m. EST. This has been a labor of love and an exciting new venture with my dearest friend and co-host, Author Kim McGath, homicide detective (Ret.) and cold case consultant. Learn more about Partners In Crime in the menu bar. Catch the replay to previous shows, or watch it on my YouTube channel. Subscribe and be the first to know what goodies I upload, including research trips for my books.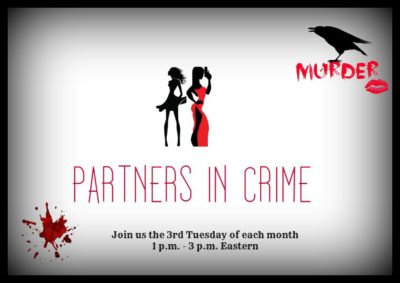 Random thoughts…
There's no better feeling than being sucked into a good book, transported to a different time and/or place, and meeting new friends you can root for. I love when characters come to life on the page and when a book leaves you wanting more. If an author can make us miss their characters long after we finish reading, they've done their job well.
I'm a firm believer in dreams. Hold tight to them. And don't be afraid to dream big. If you want it bad enough, you will succeed. I'm rooting for you!
I try to learn something new each day.  There are many ways to learn. By reading blogs/websites, online classes, conferences, groups, and speaking with strangers on the street, especially the elderly.  Elderly folks have wonderful, sometimes tragic, stories to tell.  Often times they just want someone to listen. Lend an ear. You'll make their day.
You can also gain knowledge from searching the internet for specific questions.  Please be careful if you choose this route; there's an equal amount of terrible advice out there. In my Crime Writer's Resource, which you can find by clicking the title or the link in the menu bar — for all genres now — I've included credible sources where you'll find outstanding advice from bestselling authors, crime experts, and/or writers who specialize in craft.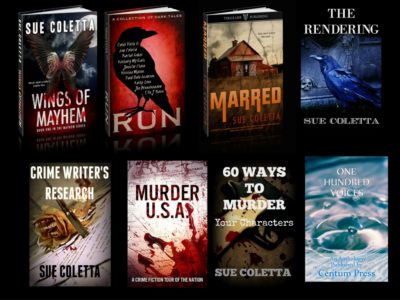 I couldn't do my job if it weren't for my police/coroner/firearm/profiler consultants/friends. Of which, I have many. Join us every other Wednesday at 3 p.m. EST on Twitter for #ACrimeChat, where you can ask experts any question you'd like to help your story ring true.
For the topic of the week, follow the hashtag #ACrimeChat. Chats run about an hour. Consider this your inside access to a personal consultant. UPDATE: During the busiest time of year in the book world, roughly Sept. to March, we meet every other week. Off season the chat is available every Wednesday. Can't join us live? No problem. Each week I post a recap, which you can find under the hashtag.
Mystery Writers of America, Sisters In Crime, and International Thriller Writers offer many valuable resources. Highly recommend all three organizations.
Humans are fascinating creatures, all with separate views and beliefs.  If we take the time to listen, we will always end up stronger for it.
I post on weekends, usually, (depending on how much research is involved) and if time permits, I might post something special during the week (it's rare, though). If you're interested in guest posting, shoot me an email: sue(at)suecoletta(dot)com, or fill out the contact form on the home page. Keep in mind this is a resource blog. I don't do book promos. Sorry.
Let's connect.
The red social media buttons above my profile pic are some of the places you can find me online.
Feel free to browse the site and tell me what you think. Otherwise it feels like I'm talking to myself.
Have a great day, and God bless.
~ Sue