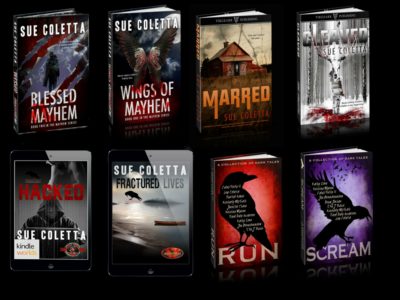 Member of Mystery Writers of America, Sisters in Crime, and International Thriller Writers, Sue Coletta is an award-winning, bestselling, multi-published author in numerous anthologies and her forensics articles have appeared in InSinC Quarterly. Every third Tuesday of the month, Sue co-hosts the radio show "Partners in Crime" on Writestream Radio Network with Homicide Detective (Ret.) and Cold Case Expert Kimberly McGath.
2017 Award-winner of Feedspot's Top 50 Crime Blogs (Murder Blog sits at #6), Sue's also the communications manager for the Serial Killer Project and Forensic Science and founder of #ACrimeChat on Twitter.
Join her Crime Lover's Lounge and be the first to know about free giveaways, contests, and have inside access to deleted scenes. As an added bonus, members get to play in the lounge. Your secret key code will unlock the virtual door. Inside, like-minded folks discuss their favorite crime novels, solve mindbender and mystery puzzles, and/or relax and chat. Most importantly, everyone has a lot of fun.
Sue lives in northern New Hampshire with her husband, who deals with a crazy crime writer feeding circus peanuts to crows named Poe and Edgar, a squirrel named Shawnee (the Marilyn Monroe of squirrels, with her silky strawberry-blonde tail), and a chipmunk dubbed "Hippy" for his enthusiasm and excited leaps each time he scores a peanut. No way isn't he shouting, "Hip, hip, hooray!"