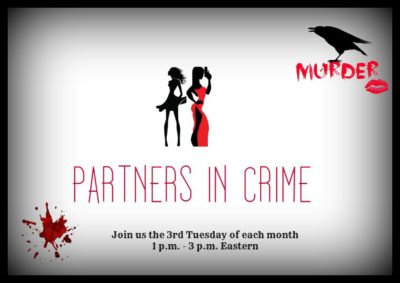 Join homicide detective (Ret.) turned cold case consultant and author, Kim McGath, and me on Partners In Crime on Writestream Radio Network. You may remember Kim from her guest appearances on the blog: Who Is the Zodiac Killer? and Rewriting…In Cold Blood.
Every 3rd Tuesday of the month we'll be talking crime from 1 p.m. to 3 p.m. EDT/EST.  Many of the cases we'll discuss are either unsolved or the Innocent Project is appealing the decision. Our collective perspectives are not to crucify the investigation or to determine who's guilty. Rather, we'll discuss the case with our expert guest.
Also, we dedicate a portion of each show to our love of crime fiction, where we interview other crime writers in some episodes, or chat about topics writers can use in their stories, as well as discuss  Also, we'll give listeners a chance to call in and ask a crime-related question, to either help writers add realism to their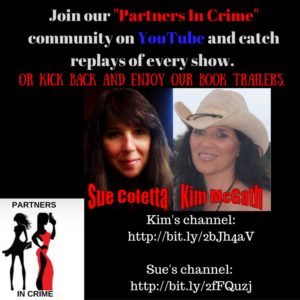 stories like we do with our Twitter chat #ACrimeChat, or simply quell their curiosity on a certain topic.
Find us at: Partners In Crime on Writestream Radio Network. #BlogTalkRadio
Call in and speak with us: (347) 945-7246
April 18, 2017 — Behind the Scenes with Crime Wave Press
Fascinating show with author, journalist, and co-founder of Crime Wave Press, Tom Vater.
Here's the link: http://ow.ly/ygXp30aWMVI
Or listen to the show here…
March, 2017 — All Things Crime Writing
Here's the link: http://bit.ly/2mI6OSr
Or listen to the show here…
February, 2017 — Femme Fatals
January 17, 2017 — Serial Killers: The Evil Within
At the end of last month's episode we talked about devoting an entire show to serial killers; Kim and I could talk serial killers forever. This is that show. You'll get a behind-the-scenes look at a serial murder investigation, including MO and signatures, phases of the serial killer and how the fantasy progresses, Zodiac, In Cold Blood killers, and more. You won't want to miss this!
Here's the link: http://bit.ly/2juWpMw
Or listen to the show here…
December 20, 2016 — Buried Secrets
Our guest had a conflict, so in this episode of Partners In Crime, Kim and I discussed a variety of subjects, including writing, books, psychics, intuition, serial killers, hunches. Kim also shared her experience working a missing persons case where, by intuition alone, she found a shallow grave.
November 15, 2016 — Missing Persons
On this episode of #PartnersInCrime, former Police Chief turned author, Andrew Nelson, joined us. Who killed Russell John Mort?
http://www.blogtalkradio.com/writestream/2016/11/15/partners-in-crime-missing-
October 18, 2016 — (Our debut show) Wrongful Convictions
Here's the link if you'd rather listen in via blog talk radio:  http://www.blogtalkradio.com/writestream/2016/10/18/partners-in-crime–debut-show-topic-wrongful-convictions
#ACrimeChat's own East Providence, Rhode Island Police Captain (Ret.) Joe Broadmeadow joined us for the debut of Partners In Crime.  Fascinating guest.  Check out his book, SILENCED JUSTICE.